LERN has three medical directors serving as subject-matter experts to assist and guide LERN in developing trauma, stroke, and STEMI systems of care.
A message from the director:
"As the leading cause of death in patients between the ages of 1 and 44, trauma has the ability to impact anyone at anytime. The effects of trauma can be devastating to the individual, the family, and the community and have immense financial impacts to both the victims and the cost to society. An effective trauma system and a vigorous injury prevention program are the keys to improving outcomes for victims of traumatic injury. The better prepared we are as a system designed to care for the injured patient the more likely the patient will survive and return to a functional status, contributing to the community. It has been clearly shown that trauma centers reduce deaths and long-term disability from traumatic injury. As Louisiana's trauma system matures, the investments we make to improve the care of the trauma patient will be returned multifold and reduce the burden of death and disability on our families, friends, and neighbors."
Dr. Sutherland is a native of Baton Rouge who has returned to serve as the Trauma Medical Director for LERN. He completed undergraduate education at Louisiana State University in Baton Rouge, received his MD degree from LSU in New Orleans and completed residency and fellowship at Keelser Air Force Base in Biloxi, MS. Dr. Sutherland has worked in military and civilian trauma centers, was instrumental in the Arkansas Trauma System development, has served as a site reviewer, Trauma Medical Director and member of the Arkansas State Trauma Center Designation Committee. He is a member of the American College of Surgeons Committee on Trauma, the Eastern Association of the Surgery of Trauma and the American Association for the Surgery of Trauma. He has presented locally, regionally, and nationally regarding trauma care and trauma systems. His research interests include trauma system development and the financial impact of trauma systems.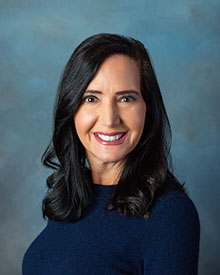 Sheryl Martin-Schild, MD, PhD, FANA, FAHA
Medical Director – Stroke
Stroke Tips
A message from the director:
"A comprehensive stroke system of care in Louisiana, with an emphasis on proven treatments and timely access to care, is necessary to reduce death and dependency. The latest reports rank Louisiana amongst the most lethal states to experience stroke. Over the last three years, the Stroke Workgroup, has advanced the delivery of time-sensitive stroke treatment by 1) revising the EMS protocol to reflect standard stroke guidelines (AHA/ASA), 2) implementing primary and secondary destination protocols, 3)defining four levels of hospital capability, and 4) receiving attestations of hospital level from all acute care facilities. Much work remains to be done, including 1) acquisition and management of stroke core measure data from stroke-treating facilities and 2) identification and facilitation of centers emerging to a higher level Stroke Center to close large gaps in access to Primary and Comprehensive Stroke Centers. We are confident that LERNs collaborative workgroup of physicians, nurses, and other stakeholders will continue to provide the expertise and leadership necessary to grow and strengthen Louisiana's capacity to provide state-of-the-art stroke care for its citizens."
Dr. Martin-Schild graduated from the Tulane University School of Medicine, while also obtaining her PhD in Neuroscience. Dr. Martin-Schild completed a combined internal medicine and neurology residency at Tulane University School of Medicine, and fellowship training in Vascular Neurology and clinical research in Vascular Neurology at the University of Texas Health Science Center in Houston, Texas. Dr. Martin-Schild founded and directed the Stroke Program at Tulane Medical Center 2008-2016. Dr. Martin-Schild is the President & CEO of Dr. Brain, Inc., which provides on-site stroke leadership and patient care to hospitals committed to improving or developing stroke programs. She currently serves as the Medical Director of Neurology & Stroke for Touro Infirmary and the New Orleans East Hospital.
Dr. Martin-Schild's research focuses on access to stroke care, racial disparities in outcome, and augmentation of rehab potential with neurostimulants and has led to more than 100 manuscripts published in peer-reviewed journals. Dr. Martin-Schild serves as the Statewide Stroke Medical Director for the Louisiana Emergency Response Network. 

A message from the director:
"Louisiana continues to build its capacity to recognize and treat STEMI, the deadliest form of heart attack. Because every second matters recognizing the signs of STEMI/heart attack and calling 911 is the first step. The opportunity for successful patient outcomes increases when patients experiencing STEMI symptoms are identified quickly and transported to a hospital facility that can effectively reopen the closed artery. LERN collaborates with pre-hospital and hospital providers to quickly identify and transport STEMI patients to the most appropriate care facility. I am encouraged by and committed to LERN's continuing efforts to partner with EMS and hospitals across the state to improve our system of care for these patients."
Dr. Posina completed his undergraduate degree at Rutgers University and completed his medical degree at Rutgers University – Robert Wood Johnson Medical School, where he also completed his internship and residency. Dr. Posina completed fellowships at St. Francis Hospital – The Heart Center, University Hospitals – Case Medical Center, and the Columbia University Division of Cardiology at Mount Sinai Medical Center. He is a cardiologist based at Rapides Regional Medical Center and specializes in cardiovascular disease and interventional cardiology.