LERN Communication Center Participates in Military Paratrooper Exercise at Fort Polk
October 9, 2012
Everyday the LERN network comes together to ensure that persons experiencing trauma get to the right place in the right time. On October 9, LERN worked together with military and medical personnel at Fort Polk, located in Region 6, the local community, surrounding regions, and the Department of Health and Hospitals to conduct a paratrooper night jump exercise. This massive event that included the potential for many significantly injured soldiers required planning, coordination, and diligence to ensure that the processes meshed and flowed into seamless identification, treatment, and movement of those injured.
The military leadership at Fort Polk and Bayne Jones Military Hospital commented that the collaborative efforts, planning, and response were "impressive." They went on to say, "We look forward to future opportunities to work with the Louisiana Emergency Response Network and all of the partners. This is a unique benefit provided to the citizens of Louisiana that, based on our experience, is not available in other states."
Brandi James, from MedExpress Ambulance Service, was the lead EMS on scene for the event. Brandi wrote that, "LERN was extremely professional and easy to work with. We did multiple radio and cell checks prior to the start of the event and the lines of communication were clear and well planned. Special thank you to Courtney Hancock and Chris Hector with LERN for their help."
---
LERN Participates in Region 3 Active Shooter Drill in Lafourche Parish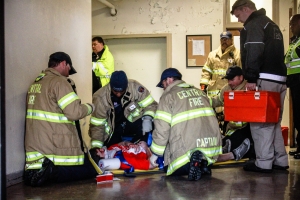 In the wake of the Newton shootings, many states have considered mandates for emergency preparedness drills focused around "intruder" drills in schools. In April, Tennessee Governor Bill Haslam signed legislation that requires such drills and Missouri has pending legislation that would require all school personnel to participate in simulated active-shooter drills conducted by law enforcement. In Louisiana, HB 718 authored by Representative Hensgens was signed by the Governor this legislative session. This bill addresses school crisis management and requires plans to address school safety and the incidence of a shooting or other violence at schools. Click here to read the Act. On June 5, 2013, multiple agencies from throughout Terrebonne and Lafourche parishes conducted an active shooter drill in conjunction with E.D. White Catholic High School.
Student volunteers and other deputies assumed "actor" roles for the drill, and representatives from a large number of area agencies either directly participated in or observed the progress of the drill. Thibodaux Police Chief Scott Silverii stated, "The drill was the culmination of many months of cooperation and coordination between every aspect and everybody responsible for emergency situation response in Lafourche Parish".
Throughout the drill student role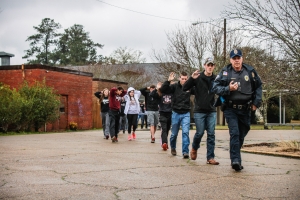 players were identified as patients and brought to a staging area. Fire and EMS managed the staging area which consisted of a decontamination zone, triage area, and medical incident command. Once patients were triaged, the Incident Commander activated the Louisiana Emergency Response Network Communication Center (LERN) for distribution of patients to area hospitals. LERN also sent out alerts through the state ESF-8 Portal. These alerts were received by local hospitals and emergency responders to relay important information about the event. These notifications are sent during real life events to give early warning to affected areas allowing them to prepare their response to specific incidents. For more information about the drill, click here.
---
LERN Participates in Acadian Ambulance MCI Boot Camp
On December 3rd and 5th, LERN staff assisted Acadian Ambulance Service with training approximately 130 of their medics in MCI scene management. The training included classroom instruction as well as hands on scenarios. Students from the Lafayette High School's Academy of Health Careers served as victims in motor vehicle crash scenarios where medics simulated response and incident command procedures. Once patients were triaged, medics contacted the LERN Communication Center (LCC) for patient transport direction. This is the second year that Acadian Ambulance and LERN have partnered for this training event. Contact Chris Hector to request LERN assistance for MCI training.
---
St. Elizabeth Hospital Shares Lessons Learned from Williams-Olefins Explosion
At the request of the Region 4 LERN Commission, on November 8, 2013, Dr. Chris Trevino and staff from St. Elizabeth Hospital presented lessons learned from the Williams Olefins Chemical Plant mass casualty event. Dr. Trevino spoke of the successes, barriers and lessons learned from the hospital perspective. He stated the most important thing in a mass casualty event is communication and local hospitals need to develop networks, develop lines of communication, and test them constantly to help themselves prepare for the unexpected disaster. Click here to view Dr. Trevino's presentation. For more information, please contact Dr. Chris Trevino.